Step1. T greets with Ss in English.
How are you? Are you happy today? Are you hungry now?
I'm hungry, too. But we have to finish our class first.
We have learnt unit 5 careers .
Can you tell me :what do you want to be ?
I want to be a __________.
Good. There are some different careers at the superkid's school. Let see who are they? What are they?
Step2.
1.T:Who's she? Ms. Long.
How about her? Sandy's mum.
Who's he? Chip's father.
Why are they at school today?
–Because today is careers day at school.(read this sentence)
2.What do they talk at school?
Let's look here(PPT). 4 sentences. Can you read them?
Ask Ss to read.
Please put the sentences in order. Number 1/2/3/4.
(listen to the story) then ask them to number.
So first let's look at Ms. Long.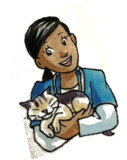 This is Ms. Long. She's a vet. If you want to be a vet. You must love the _________. Yes. Do you know what kind of pets dose ms. Long like?
She likes _____________.
Show them the passenage. Repeat.
3.who's she? What is she?(ask one Student to say )
Show them the first 3 sentences. Read.
What's in her hat? At first, there is nothing. Then a ________.
Is that magic? Yes, that's magic.
But look at this picture. (dian Mojo)
Ss say it's Mojo.
4.introduce Chip's father.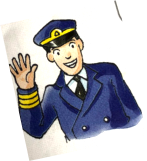 Ask them about their parents' career.
Step 3.
Listen and repeat the story.
(思维导图)try to repeat the story one sentence by one.
Ask four Ss to come to the front and say what they want to say.
Then ask them to say it in four.
Ask show it out.
Step4. What do you want to be? A doctor or a pilot?
Whatever you want to be, work hard now. be a good student first!